Welcome to Ibuki High School
Thank you for visiting the official website of Shiga Prefectural Ibuki High School.
Here you can find detailed information about our school. For junior high school students in particular, we hope you will get to know our school well and use this information as a guide to help you decide which school to attend. Also, to the alumni association, locals, and parents, we hope you will understand the educational activities of our school. Thank you for your continued support. We hope that this page will be helpful for you all.
Features
Our school is located in a naturally rich area near Mt. Ibuki. We received a request from the local community and opened the school at it's current location. We provide education based on the school motto, "Do the right thing right." Since its establishment, all faculty members have been working together to create an orderly school. That spirit has been passed down from generation to generation.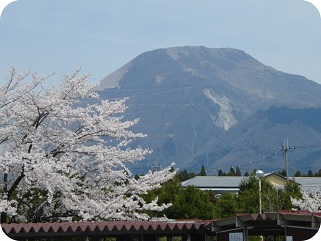 Courses and Classes
Although we primarily offer a general education curriculum, we also offer a physical education course, academic enrichment course, and academic development course. Each course provides an unique education and each has a goal. The goal of the physical education course is to "upgrade the level of physical strength and skills in order to grow their hearts, and to improve the ability to play an active role as a leader." The goal of the academic enrichment course is to "focus on their basic learning ability and to enjoy learning." The goal of the academic development course is "to improve their learning ability in order to enter challenging universities."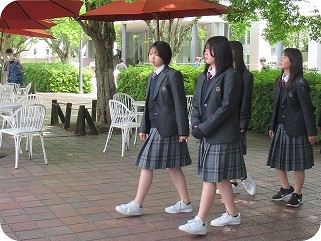 Extracurricular activities
Our students practice hard every day, which is one of the Japanese spirits: Bunbu and Ryodo. Among our club activities, the hockey club has won 11 times for men, and 13 times for women in the national championship. Many hockey athletes from our school have been active as representatives in Japan, and some of them have been selected as Olympic athletes. Not only our school but also Shiga prefecture can be proud of them.
Other clubs such as our baseball club, soccer club, men's volleyball club, women's basketball club and track and field club have practiced hard as well. They have achieved good results at competitions both inside and outside the prefecture. Furthermore, the culture clubs such as our calligraphy club and koto club have played an active role.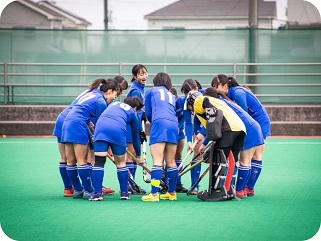 History
In the past, the former Ibuki area of Maibara City was devoid of high school education. During the period of high economic growth, high school students were forced to commute to distant schools. With the growing enthusiasm for education, there was a desire in the region to bring high schools to the area. The prefectural assembly decided to establish the school, and on April 8, 1983, the school was established at its present location, overlooking Mt.Ibuki. The physical education course was established in 2000 and Nagahama School for the Special Needs Education was placed at the same location in 2013. Many changes were made to the school in order to accommodate a more diverse range of students. To date, we have produced over 7,000 graduates over the past 38 years.